It's natural for any warehouse owner or manager to feel apprehensive when transitioning to using new motive power equipment— especially when converting from gas-fueled forklifts to electric forklifts. Different models use different size forklift batteries with varying amp hours and voltage levels, which makes finding the right industrial charger to support all their charging needs fairly challenging.
That's why when Southern States Enterprises was contacted by a customer to help with their transition to using electric forklifts, we were happy to supply them with the Hawker LifePlus Charger that would allow them to connect and charge all of their new electric forklifts. Here's how our team of motive power experts helped in completing our February Project of The Month!
Making the Transition to Using Electric Motive Power
After the customer had outgrown their old facility, they built a newer and bigger location that they could move into. They primarily operated with gas-fueled forklifts at the old location, but when they found that their new building had higher and narrower aisles, they realized it would be necessary to switch to electric motive power use. While gas-fueled forklifts are sturdy and can perform at high speeds, an electric forklift's battery weight acts as a steady counterbalance for the forklift's compact size— providing superior maneuverability for going down narrow aisles.
The customer's main concern with switching from gas to electric motive power was that ordering different forklift models meant they would all require a specific forklift battery charger. Charging industrial forklift batteries should be easy, but following the wrong charging procedures can diminish the useful life of a forklift battery and lead to sulfate buildup.
So, the big question was, "How do we know which industrial charger went with which forklift?"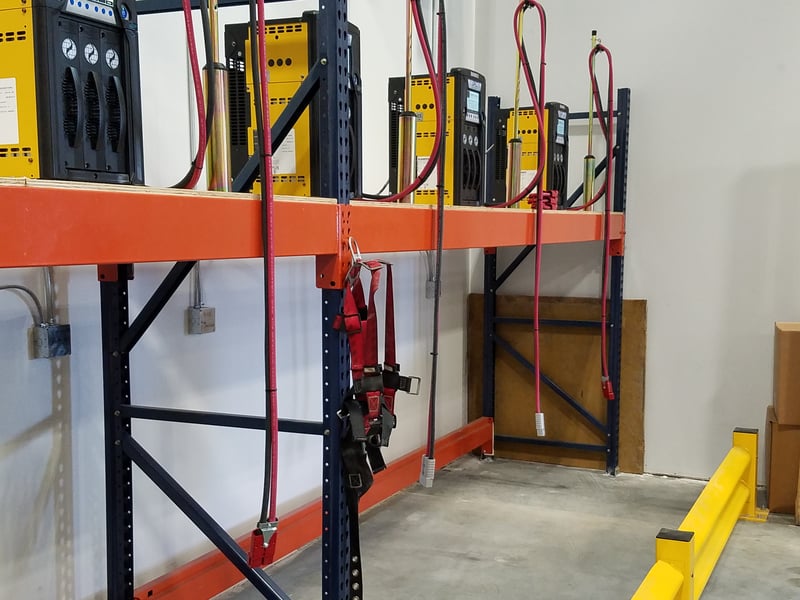 Benefits of the Hawker LifePlus Charger
As previously mentioned, each electric forklift uses a different sized industrial battery with different amp hours and voltage levels. To help the customer avoid confusion over how many different industrial chargers they would need to purchase, we supplied them with the Hawker LifePlus Charger. Hawker is a leading supplier of industrial forklift battery chargers that help reduce downtime with fast charge profiles and plug-and-play flexibility.
The Hawker LifePlus Charger is one of the smartest and most energy-efficient chargers in the motive power business. Its auto-detect feature offers six different profile charge options to allow multiple sizes of forklift batteries with different voltages to be charged all at once from the same charger. These six charge profiles include:
IONIC;
Cold storage;
VRLA;
TPPL 2V;
TPPL Bloc; and
Opportunity charging.
This high frequency mod charger provides peak efficiency and non-stop power while reducing electrical and water consumption, battery maintenance, and repair costs. Some other key features of the Hawker LifePlus Charger include:
Automatic diagnosing of the battery
Built-in anti-arc protection
Programmable delay start for specific time of day
High temperature charge interruption with Battery Boss WC (BBWC)
Multi profile capability/automatic with BBWC
Auto temperature adjustment
Auto cell sizing
Wireless Communication
7" multi-color TFT screen with customer programmable menu
Background color change with battery status
How Using the Right Motive Power Equipment Helped The Customer's Business
Southern States Enterprises was able to successfully meet the needs of the customer to help their move to a new location run smoothly. With the Hawker LifePlus Charger, the customer could plug their new electric forklift fleet into any of their industrial chargers and charge them all at the same time. Not only did this help secure their business and help ease the transition to electric motive power, but they could also charge the rented forklifts they were using in the interim of their location change. We also supplied the customer with POGO sticks to help keep the charger cords off the floor and eliminate tripping hazards while preventing the connectors from being smashed or damaged.
When looking at a full list of comparisons, it's easy to see how transitioning from gas to electric motive power is not only a better long-term investment, but it improves forklift performance for increased efficiency in daily warehouse operations. The right motive power equipment is key to ongoing forklift battery safety and reducing downtime in between battery charging cycles.
At Southern States Enterprises, we offer a variety of Hawker industrial chargers and batteries that deliver a level of performance and reliability unmatched in the motive power industry. All of our industrial battery and charger services are performed by certified technicians to help optimize the output and service life of your motive power equipment. Contact us today for more information on how we can help ease your transition to electric motive power!