The right space utilization can make all the difference in a warehouse. Space is coveted and, as most warehouse managers know, there is usually not enough of it. Of course, finding the right solution for a lack of space is not so easy. While adding on an addition may seem like the most plausible fix, traditional construction is expensive and time-consuming.
This was the dilemma facing one of SSE's customers. Luckily, we were able to present them with an alternative option besides building a completely new facility. See how the SSE team designed and delivered a more affordable and convenient solution to solve this customer's warehouse space challenges with mezzanines.
Benefits of Warehouse Mezzanines
Our customer, a leading company that manufactures pill caplets, hand sanitizers, sunscreens, toothpaste tubes, and other creams and ointments, needed more space in their facility. However, they didn't want to go through the tedious and expensive process of hiring a general contractor and building an entirely new addition to their warehouse.
In addition, they needed their products to be packaged into containers for consumer sales and sent off to be distributed. Having proper organization would be key so that the products were correctly stored and could be quickly gathered in order to be shipped off in a timely fashion.
To figure out a solution, they reached out to Southern States Storage & Handling. After careful consideration, SSE devised a plan: Build a massive mezzanine to meet all their storage needs! The total size of the project was over 13,000 square feet. The mezzanine was built for under $50 per square feet, whereas a general contractor's cost would have been well over $100 per square foot. Ultimately, the customer saved around $400,000!
The Storage & Handling Challenges
The project came with its own unique storage and handling challenges. For instance, the mezzanine had to be built over existing facilities and equipment, so it could not interfere with production. It was also a tight space for the SSE team to work within, so everything had to be built precisely for the proper fit.
Additionally, the customer was concerned about the durability of the mezzanine. To provide the strength needed, SSE added a protective coating over the wood to make it last as long as possible and designed the mezzanine to comply with county code restrictions.
To enable the customer to move packaged items efficiently from the mezzanine to the loading dock trucks, SSE installed two reciprocating conveyors, which acted like large elevators able to move products up and down without a forklift. These vertical lifts were supplied by our partners, Custom Industrial Products. Custom Industrial Products (CIP) is a family-run, minority/woman-owned vertical lift manufacturer, founded in 1986 by husband-and-wife team Darlene Taylor and Henry Powers. They offer a variety of vertical lifts that are free standing, requires no renovations to use, adaptable to a variety of business applications and helps to maximize valuable, but unused vertical space.
Additionally, LED lighting was installed underneath the mezzanine to provide the proper lighting for employees. In fact, the LED lights enabled the warehouse to be brighter than the mezzanine, providing improved warehouse safety for workers.
Not only did SSE deliver a safe and efficient storage solution for the customer, but because this was a capital investment before the year-end, the company was able to write off the entire expense due to Section 179! If the project had been general construction, it would not have been written off.
The Southern States Storage & Handling team was able to complete the project in under 30 days, with our project management team on-site to ensure the smoothest operation possible. By being on-site, the team could ensure that all components were received and installed as precisely as possible to deliver the Quality Assurance SSE promises.
So, in less than 30 days from installation, the customer was able to start using the mezzanine to store raw materials for production!
The Construction Process
Below: The mezzanine in the early stages of construction.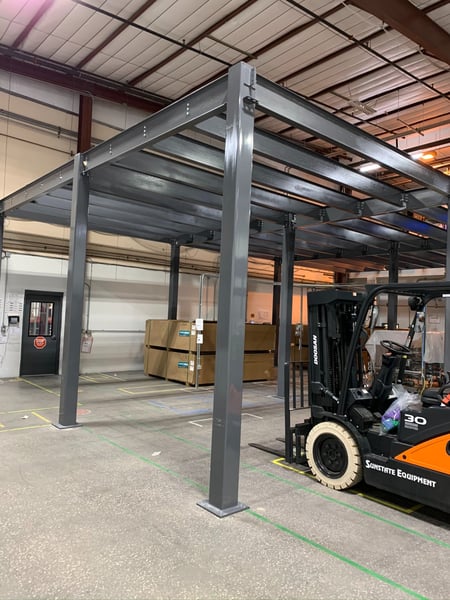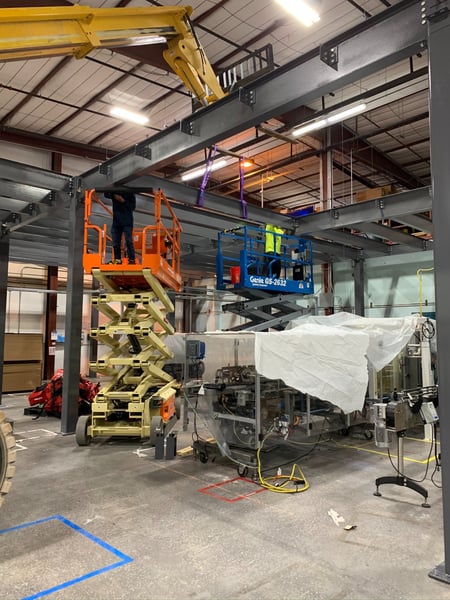 Below: The construction of the conveyor, which will make moving products from the upper levels to the ground floor convenient and efficient.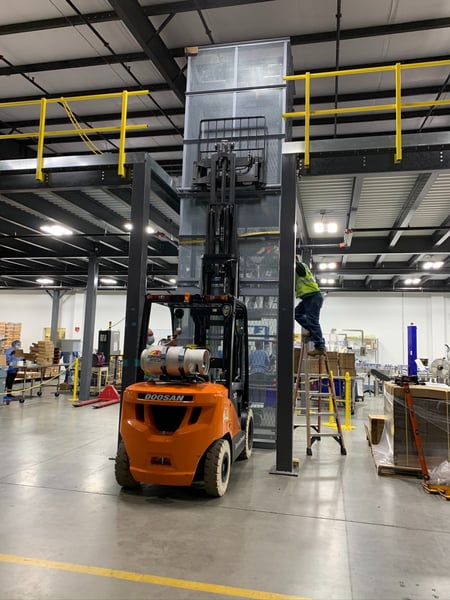 tHE fiNAL rESULT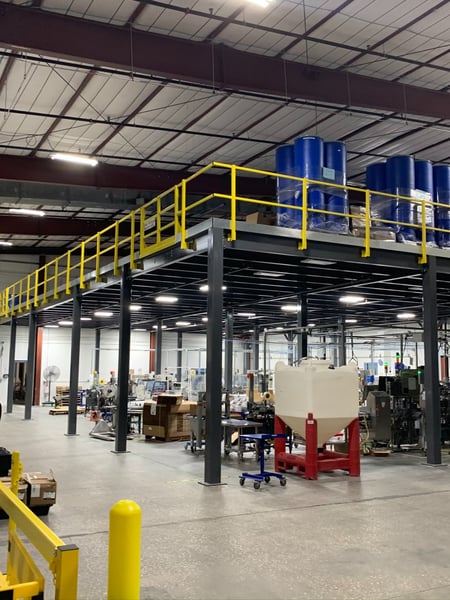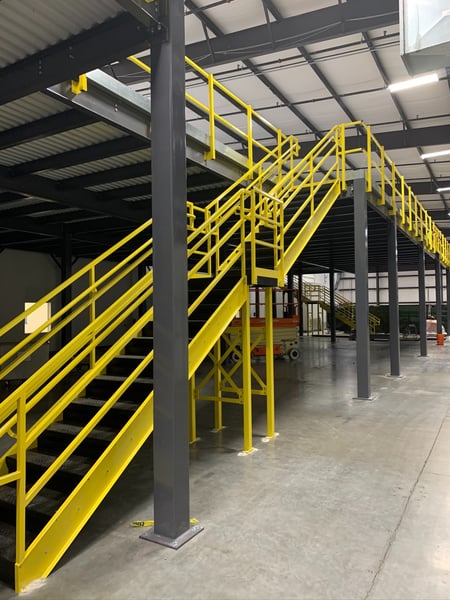 Are You In Need Of A Storage & Handling Solution? Let SSE Help!
At Southern States Enterprises, we have a wide selection of warehouse storage and handling solutions, including pallet rack and shelving systems, mezzanines and in-plant offices, and maintenance repair services to ensure your warehouse can achieve the greatest space utilization possible. Our qualified experts are ready to help improve the productivity and efficiency of your warehouse.
For more information on how our storage solutions can transform your warehouse, contact one of our representatives today.