Space is a highly coveted feature for many warehouses. Utilizing every square foot is vital to streamlining warehouse operations, but most warehouse managers face the reality that there just isn't enough space to go around. Instead of expensive construction jobs that can take months to complete, there are alternative warehouse design layouts that can increase space while minimizing costs. By implementing warehouse mezzanine systems, warehouses can enjoy increased space and the ensuing productivity, without the long-term expenses of construction.
Adding a mezzanine can be especially beneficial for Florida warehouses. Not only do they provide numerous benefits, but mezzanines can keep valuable inventory out of reach of floods during the Florida hurricane season. Depending on your unique needs, your warehouse may benefit from a mezzanine storage system.
Quick Links:
What is a Warehouse Mezzanine?
A warehouse mezzanine is an elevated floor system installed between the warehouse floor and ceiling but generally does not extend over the entire floor space. In most cases, a mezzanine is partially open to the floor below.
Mezzanine floor systems can be created with a variety of materials ranging from wood to metal decking, depending on their functions. Besides providing extra space for storage, a mezzanine is not limited to one or two applications but can be used to provide additional space for conference rooms, offices, and more.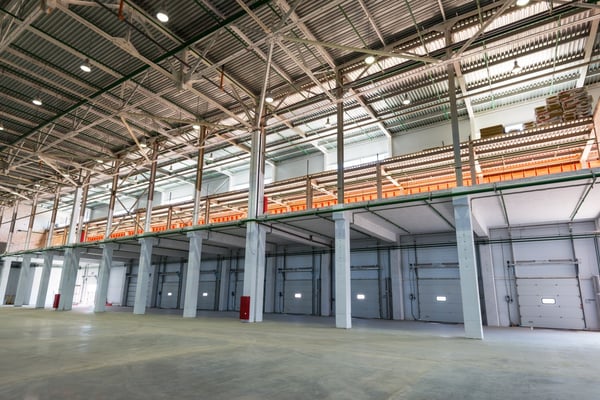 Why Add A Mezzanine Floor to Your Florida Warehouse This Year?
Besides providing valuable overhead space, adding a mezzanine floor provides numerous other benefits that increase warehouse operations and overall productivity without the cost of traditional construction expansion. Florida warehouses can especially benefit from the addition of a mezzanine to provide extra space while protecting inventory from floods and unpredictable weather.
Expand Warehouse Layout Without New Construction
Adding a mezzanine level to a warehouse is typically the most cost-effective option compared to traditional building expansion. While a mezzanine is one set price and constructed within weeks, warehouse construction has large upfront costs with additional costs piling on later. Generally, warehouse mezzanine cost estimates can range from 60 - 75% of the cost of traditional construction alone - without taking into account the additional costs of construction, including permitting, equipment, and other soft costs such as taxes and inspections.
Mezzanines also avoid the time-consuming construction process in general, which includes permitting. Building warehouse expansions require permits from local building authorities which can take weeks and costs hundreds of dollars. Once warehouse managers have the building permit, the general construction can also take months to complete, further affecting your warehouse productivity and negatively impacting your bottom line.
Ensure Warehouse Safety
Warehouse managers have to ensure the safety of their employees. Installing a mezzanine can help protect employees from harm by providing the necessary space to prevent falls and other accidents from inventory.
An unorganized warehouse can be full of hazards that can cause employee injuries. Inventory, empty boxes, and other debris crowding narrow alleys and a busy warehouse floor can create tripping hazards for workers. Besides potential OSHA investigations, employee injuries decrease the efficiency of warehouse operations and can increase costs from injuries and lost time.
Increase Operational Efficiency
An organized warehouse is an efficient warehouse. Mezzanines can improve warehouse operations by increasing productivity. Proper storage allows warehouse floors to be clean of debris, providing ample room for forklifts and employees to complete daily tasks with the speed and accuracy needed for optimal warehouse operations.
Additionally, mezzanines can provide ample space for offices so warehouse managers can be in the same location as employees to supervise operations. While managers can be out of the way of warehouse operations by being at an intermediate level, mezzanines can provide ample communication between staff for optimized daily operations.
Keep Inventory Raised and Out of Flood Zones
Florida warehouses in particular can benefit from the raised level of mezzanines. Inclement weather conditions, frequent during Florida's rainy season, can cause flash floods that can quickly overwhelm warehouses. Inventory on bottom floors can be quickly damaged, losing your warehouse thousands of dollars.
Mezzanines can also protect inventory from the Florida hurricane season. Hurricanes can produce torrential rains, leading to flooding and debris flows that can break into even the best-sealed warehouses. Removing inventory and containers from the ground-level of your warehouse floor to mezzanines can protect your valuable products and save your warehouse money in the event your warehouse becomes flooded with even just a few inches of water. To help protect valuable inventory from being damaged from flash floods and hurricanes, Florida warehouses can trust mezzanines to deliver.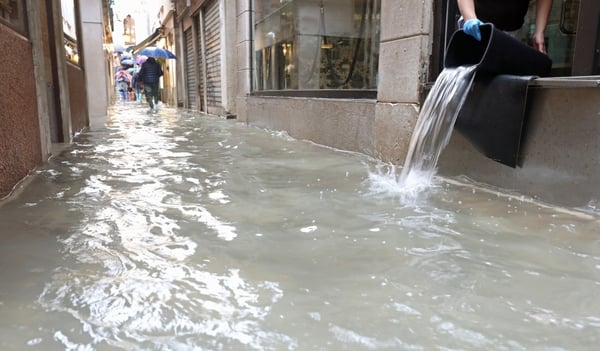 Types Of Mezzanines And Other Warehouse Design Solutions
There are several types of mezzanines available, depending on their application and your warehouse design. Some of the most common warehouse mezzanine systems include:
Rack-Supported Mezzanine
Just as its name suggests, a rack-supported mezzanine provides storage space above or between storage racks, such as pallet racks. By combining pallet racks with an extra level, this warehouse mezzanine system allows for loading and unloading pallets simultaneously and more utilization of space.
Shelving-Supported Mezzanine
This type of mezzanine has shelving serving as the mezzanine's base, allowing for further storage. This option is attractive for warehouses looking to utilize as much space as possible, but it is the least flexible option when rearranging warehouse layout.
Free standing Mezzanine
A very common style, free standing mezzanines have few anchors so they take up minimal space on the bottom floor. They allow for easy traffic flow underneath and are the easiest design to reconfigure if rearranging your warehouse design layout.
View Our Local Florida Warehouse Layout Solutions!
For expanding warehouse space, mezzanines are one of the most cost-effective options available and one of the best solutions for organizing storage and improving operational efficiency. For Florida warehouses looking to protect inventory from hurricane flooding, mezzanines offer the height needed to avoid floods and debris from storms.
While mezzanines offer plenty of benefits for increasing warehouse organization, there are other warehouse layout solutions that may fit your unique warehouse needs better. Modular offices are prefabricated and portable offices, while Vertical Reciprocating Conveyors (VRC's) are a useful warehouse design to move inventory from one elevation to another quickly and safely.
If you're interested in expanding your warehouse space in the new year, speak with a Southern State Enterprises representative today. Our experts can help you find the right storage and handling solution for your unique warehouse needs!