Most companies own or rent warehouse space to store product and equipment or as a hub between production and shipping. However, it doesn't matter what industry they're in, they usually have one thing in common: They use multiple service providers to accomplish various tasks. This can cost valuable time and money while creating major headaches and administrative burdens for everyone involved. But there is a better way – using one integrated warehousing solutions network.
7 Benefits of Using One Integrated Warehousing Solutions Network
Why use multiple service providers when using one integrated warehousing solutions provider offers so many benefits? Here's a look at just a few of the reasons why you should seek out one single-source warehousing solutions provider.
1. Integrated Partnership
When you have different service providers, you're going to be involved in a number of supplier-vendor relationships that usually involve a lot of transactional interactions. Of course, all of these interactions are separate from one another. And, because you use each provider for a specific need, they're typically less invested in supplying good and/or prompt customer service.
With one single-source warehousing solutions provider, you're giving them a good amount of business. In turn, they will be much more likely to go the extra mile in order to keep you satisfied over the long term – and to keep your business in general.
2. Single Point of Contact
Working with multiple contacts across different lines of business can get confusing, and it doesn't take much for the cracks in the relationships to begin to show. Working with a single company for all your warehousing needs is a big win for any business.
With one provider, ownership, accountability, and responsibility stay in one place; the buck cannot be passed. And, if things do go wrong, there's only one number to call!
3. Faster Response Times
A single point of contact also means fewer links in the chain. With fewer links, fewer mistakes are made. In addition, response time increases because communication is tighter and your operations are considered a priority. Since you're entrusting the provider with a good chunk of your business, your issues, queries, and requirements will be attended to faster than those that only give the provider a portion of their business.
Without a single source provider, you're just one of many customers. Your emergencies may not translate into an emergency for the provider, and you'll just be put into a queue rather than moved to the front of the line.
4. Greater Efficiencies
An efficient warehouse needs to continually be thinking about warehouse capacity and ways to improve efficiency. Greater efficiency makes it possible to meet deadlines, manage costs, and deliver quality goods.
An efficient warehouse also needs to have the right equipment and the right shelving and racking, along with service, maintenance, and safety checks to meet OSHA requirements. With one integrated warehousing solutions provider, one call does it all.
5. Less Administration Overhead
Let's face it, managing a lot of service providers can be a headache. Not only that, it's a big drain on administrative overhead. Multiple providers mean more purchasing processes to learn and manage, more purchase orders and invoices to take care of, more phone calls and emails to handle, and so on.
With a single integrated warehousing solutions provider, administrators only need to deal with one company for all their needs. This simplifies their workload and can free them up to tackle other projects.
6. More Customized Service
By giving a warehousing solutions provider a good portion of your business, you become very valuable. This means, rather than kowtowing to a vendor, you'll be able to influence how your services are delivered, potentially even receiving customized solutions that are tailored to your specific needs.
7. Lower Costs
There are inherent cost efficiencies of integrated systems versus stand-alone suppliers. Generally, single sourcing will save businesses money due to the consolidation of all requirements with one solutions provider.
In addition, single sourcing creates a relationship. The single-source solutions provider will have visibility into many aspects of your business, and so a good provider will try to figure out how to get the best deals and returns for you; they will also consider the overarching strategies and goals of your business, offering helpful suggestions and recommendations.
The Most Common Warehousing Needs
Whether a business is in the manufacturing, pharmaceutical, food and beverage, third-party logistics, or aerospace and defense industry, there are typically five areas in which they need solutions for warehousing. They are as follows:
Financing and asset management
Facility repair and maintenance services
Fleet management technology
Logistics infrastructure support
So, why go to multiple sources for warehousing solutions when all your needs are within the same industry? With Southern State Enterprises (SSE), we act as your local connection to a comprehensive network of providers.
We're part of a family of warehousing solutions companies and we work with all of them to meet your needs so that you don't have to! With SSE, you'll have just one point of contact for everything you want, creating a strong and lasting relationship in the process. With our connections, we can help you build, grow, improve, and maintain your facility and equipment, and so much more!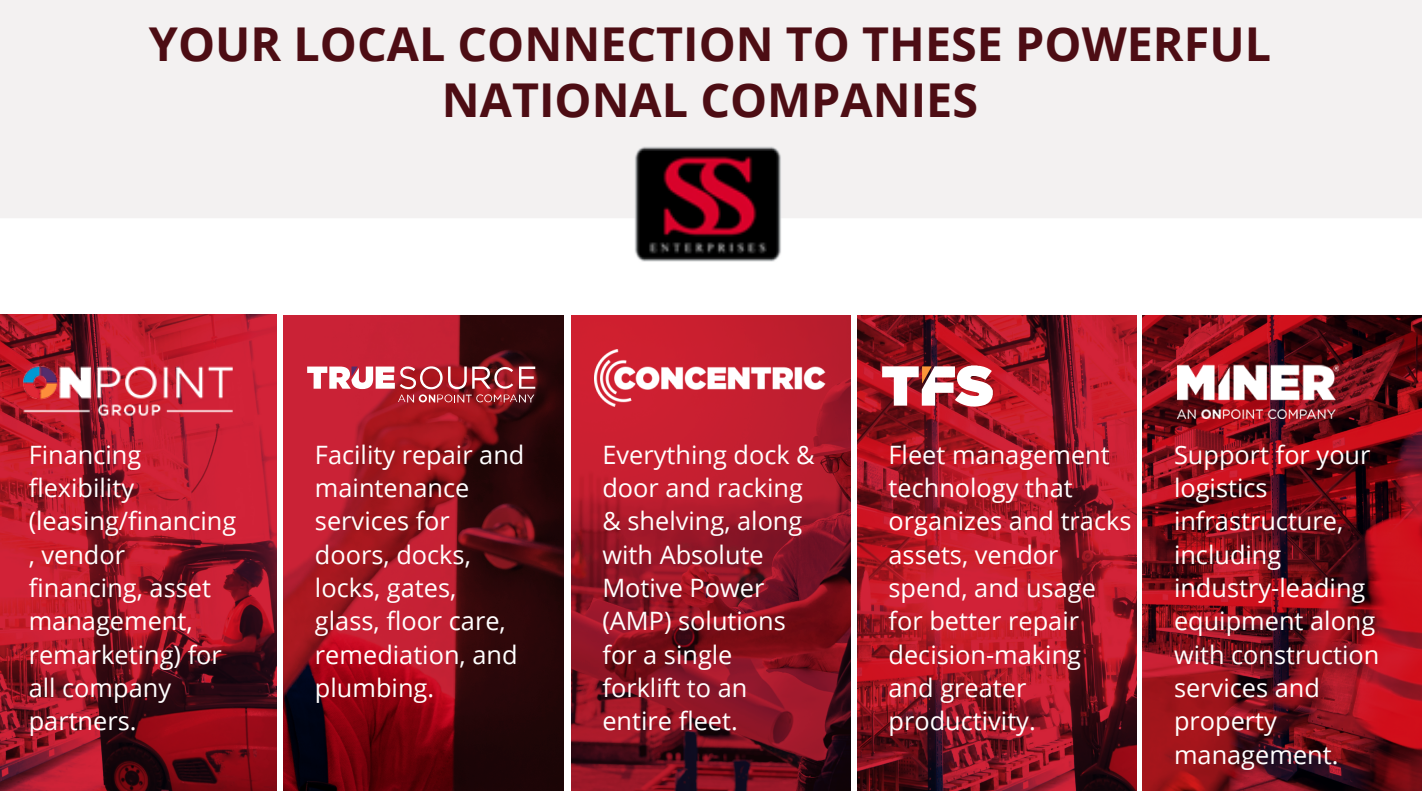 Contact us today for all your warehousing needs. We look forward to working with you and building a lasting relationship with you.