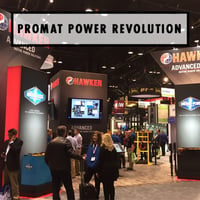 Southern States Enterprises representatives were elated to attend ProMat 2017 at McCormick Place in Chicago, Illinois last week. ProMat is the premier showcase for material handling, supply chain, and logistics solution specialists and manufactures in North America. The show had a record number of 900 industry leading material handling and logistic providers exhibiting this year.
We were excited to stop by the HAWKER Batteries booth to discover the very latest industry solutions that power your business ahead. HAWKER's 85 plus year history of innovation and industry experience as a leading provider of advanced industrial power system solutions was proven again this year. HAWKER displayed many new products that reduce operational costs while increasing efficiency for users of industrial forklift batteries. Exhibiting their ENERGY-PLUS™, POWERLINE™, WATER LESS®, and TOP POWER® batteries which provide the best power in the industry. HAWKER's high-frequency modular chargers that offer advanced scalability, redundant power, and maximum flexibility were also on display, showcasing their LIFEPLUS® MOD3, LIFESPEED® MOD3, and LIFETECH™ MOD1 chargers that provide users plug-and-play flexibility, eliminating possible downtime, while ensuring future scalability.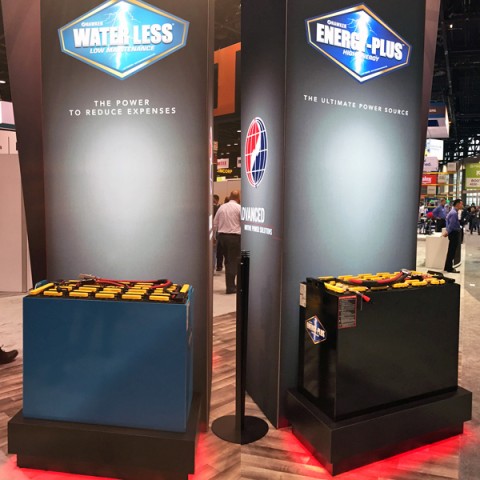 It was a great ProMat 2017 and we were excited to be there to see all the new innovative products being offered by our preferred vendor HAWKER Batteries. If you would like more information on specific HAWKER product information displayed at ProMat, just click here to download brochures or contact a Southern States Enterprises representative today.