Planning your warehouse right - whether that means leveraging optimized pallet racks or installing equipment properly the first time around - can help warehouses make the most of limited space and tighter budgets in 2021. Proper warehouse planning and servicing, which includes planned preventative maintenance, training, and repairs, ensure that your daily warehouse operations can continue running as efficiently and safely as possible all through the new year.
With the right storage solution and proper warehouse planning, your facility can be optimized to achieve its true revenue potential for the new year and beyond. Follow some of SSE's guidelines for choosing the right warehouse storage system and installation for your warehouse to meet your unique needs in 2021.
Quick Links:
Why is it Important to Have an Optimized Warehouse Storage System Going Into the New Year?
Optimizing your warehouse for the new year not only saves your warehouse hundreds of dollars, but can also help better prepare your warehousing budget. Optimizing your warehouse storage can drastically improve your operational efficiency, boost productivity, and reduce costs so you can save for other large projects or meet other business needs.
You may not realize it, but effectively managing your warehouse space directly impacts your bottom line. Cluttered warehouse floors can make it hard for forklifts to move inventory, slowing down daily operations. Additionally, an unorganized warehouse floor can provide plenty of safety hazards, such as empty boxes and scattered inventory; employees injured from an easily avoidable accident can result in expensive worker's compensation costs and long leaves of absence that can result in further downtime.
There are many types of storage systems on the market, all with different functions, features, and capabilities. Choosing the right warehouse storage system that is most aligned to meet your current needs (and budget) can help save immense amounts of time and money throughout the entire year. However, this does not just mean choosing the cheapest option! Ill-informed decisions based primarily on cost for your warehouse storage system can result in greater costs in the long-run and can even be a safety hazard. Choosing a solid warehouse storage system that is properly installed and meets your specific needs can have a major impact on your warehouse productivity and profitability, so it's vitally important to do your research and plan correctly.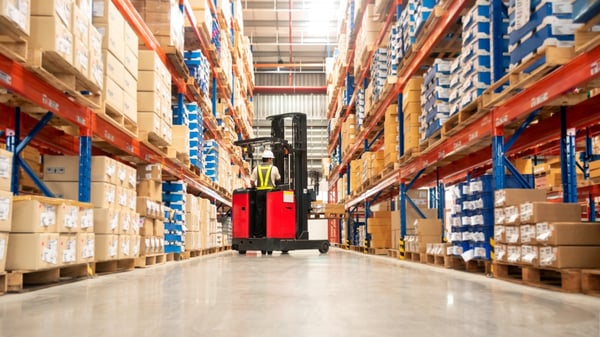 Top Benefits of Strategic Warehouse Planning for 2021
As your business enters the new year, it's a great start to make significant improvements to your warehouse planning to optimize your warehouse. There are three unique benefits to warehouse planning:
Improved Warehouse Safety
Researching the right warehouse storage system and installing it correctly can drastically improve warehouse safety and performance. Warehouses are notorious for having the potential to become cluttered. Inventory, equipment, empty boxes, and packaging can quickly pile up in narrow aisles and on warehouse floors. This debris can quickly create tripping hazards for employees. According to OSHA, slips, trips, and falls constitute the majority of general industry accidents and 15 percent of all accidental deaths.
Warehouse safety is also enhanced by correctly installing storage systems. Unstable storage systems, such as pallet racks, can cause debris to fall or the entire storage system to collapse - which can result in serious employee injuries, damage to inventory, or worse. Correctly planning out storage design and taking the time to install it properly can protect your employees and valuable assets for years to come.
Enhanced Storage Customization that Reduces Space Constraints
Space in a warehouse is a valuable commodity that many warehouse managers wish they had more of. With the right warehouse design, warehouses can exponentially increase their storage capabilities without building extensions to infrastructure.
Pallet racks and industrial shelving can be built to increase storage and customized to fit any type of warehouse space you have to offer. Inventory can quickly cause space constraints in narrow aisles or busy warehouse floors. Pallet racks, industrial shelving, and other storage system options allow for organized space areas so inventory is organized for efficiency and not damaged. While construction costs can quickly add up - without including indirect costs and permitting - mezzanine, pallet racks, and industrial shelving storage systems can provide storage customization to reduce limited space at a fraction of the cost.
Decreased Overall Warehouse Operation Costs
Besides reducing any costs from construction to expand warehouses and by eliminating issues with employee safety, planning the right warehouse storage system for your warehouse can reduce operational costs. The right organizational solution can increase efficiency and decrease mistakes with processing and shipping inventory, receiving shipments, and data entry. All of these factors impact your warehouse's bottom line. A hectic warehouse floor needs space that is clear, organized, and free of hazards to employees. Besides reducing the chances of costly mistakes, unorganized storage makes it harder for employees to find the materials they need to do their jobs.
The Importance of Selecting the Right Warehouse Storage System for Your Needs
There are numerous warehouse storage solutions available with different capabilities and functions. Choosing the right system depends on your unique warehouse needs.
When to Use Mezzanines and In-Plant Offices
Mezzanines and in-plant offices are great warehouse storage solutions for warehouses looking to utilize the space they already have. While a warehouse mezzanine is an elevated floor system that is installed between the warehouse floor and ceiling and partially open to the floor below, modular in-plant offices are prefabricated buildings suitable for a variety of warehouse solutions.
These two options are especially useful for warehouses looking to create additional space for employees and staff. Both mezzanine and in-plant offices can provide valuable workspaces, break rooms for employees, or administrative space for managers who wish to be right on or above the factory floor. They are also a great cost-effective solution compared to traditional construction to add on space. While general construction to add on warehouse space has large upfront costs, a modular office can range from anywhere to 60% - 75% the cost of general construction - before the additional soft costs of permitting, equipment, taxes, inspections, and a architectural design are factored in.
These options can also be valuable for Florida warehouses especially due to their elevation. Florida is no stranger to the flooding from hurricanes and torrential rains. Storing inventory, equipment, and other valuable items away from the ground-level of your warehouse floor can protect them in the event the warehouse becomes flooded. Even a few inches of water can damage inventory, costing your business hundreds - if not thousands - of dollars. In-plant offices and mezzanines offer Florida warehouses protection from the elements when emergencies do occur.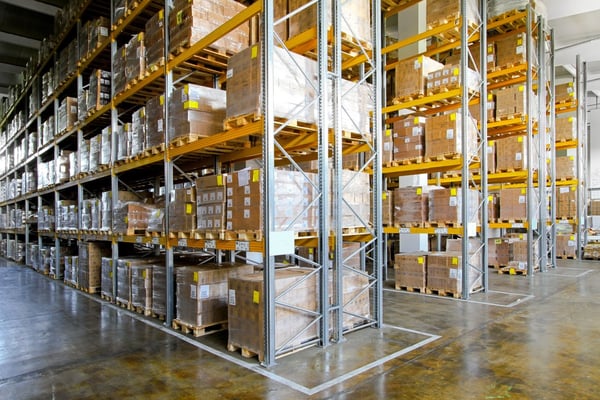 How to Optimize Pallet Racking Systems
Another popular warehouse storage solution, pallet racking systems are valuable warehouse storage and handling solutions for reducing disorganization and can handle between 2,000 to 6,000 lbs of weight, which makes them ideal for storing a variety of inventory loads, from clothing to heavy beverage items.
Pallet racks can also increase employee safety by minimizing tripping hazards. Decluttering your warehouse floors with pallet racks allows forklifts and employees to continue their day-to-day tasks with ease without worrying about damaging any merchandise or tripping over debris.
For warehouses looking for optimizing tight spaces, pallet racks can be an attractive solution. Pallet racks can be installed to whatever space dimension you need without having to force a racking system into a tight space. In fact, there is no one size fits all when it comes to pallet racks; while there are two categories of pallet racks, roll-formed and structural, these can be customized and designed for any style warehouse and can be used for light, medium, or heavy-duty storage.
The Importance of Proper Equipment Installation & Maintenance
Properly installing storage systems is just as important as choosing the right equipment and storage solution in the first place. Improper installation can be a safety hazard and cost your warehouse thousands of dollars in workers' compensation, downtime, and damaged inventory.
Why It's Essential to Install Your Warehouse Storage System Correctly—the First Time
Poor pallet rack installation can be dangerous. The entire structure can collapse, along with the up to 6,000 lbs of weight the pallet racks support. The result can be devastating, causing immense damage to your equipment, inventory, facility - or even worse: workers becoming seriously injured or killed from falling debris or crushed from the weight of the racks.
Besides the tragedy of seriously injured employees or worse, your warehouse will be faced with potential lawsuits, high workers' compensation costs, and OSHA investigations. It's essential that your storage systems are planned correctly the first time around to avoid devastating accidents. Implementing preventative maintenance strategies can minimize these risks for accidents caused by improper pallet rack installation.
The Long-Term Value of Preventative Maintenance Programs
Preventative maintenance programs can ensure that your pallet rack systems and equipment is working optimally to avoid accidents that can result in employee injuries, inefficient operations, and downtime that can affect your bottom line.
Whether you have pallet racks or other storage solutions, effective maintenance programs allow for smooth warehouse operations and employee safety. It also lowers long-term warehouse costs by catching potential damage to your equipment and inventory before it results in more costly repairs in the future. For instance, preventative maintenance programs can discover loose bolts in pallet racks or unbalanced shelving loads that could cause debris to fall - before these incidents actually occur. Proper warehouse planning for the new year should include a detailed preventative maintenance plan to help your warehouse stay on track and safe in 2021.
To help meet your warehouse's storage needs and ensure the safety of your workers in the new year, inventory, and facility, the experts at SSE can handle your next industrial rack installation. Our trained technicians will help create greater storage capacity and properly utilize your warehouse space without the risk of pallet rack failure. For more information on rack repair, maintenance, and safety, reach out to SSE today!