A loading dock is one of the busiest areas in a warehouse — which also makes it one of the most hazardous. With fork lifts, tractors/trailers, and employees constantly moving inventory in and out of the loading dock area, there is a genuine risk for equipment failures and accidents that can cause bodily injuries and asset damage.
At Southern States Enterprises, our mission is to ensure that warehouse operations are always running safely and at optimal efficiency. By providing best-in-class products, maintenance plans, and repair services, we are able to meet our client's unique operational needs. As an example, we helped a beverage bottling and distribution facility improve their loading dock conditions for enhanced productivity and safety. Keep reading to find out how!
Loading Dock Faces Environmental and Safety Risks
The client needed a way to keep their trailers from rolling and/or pulling away from their loading dock during loading and unloading. This unexpected trailer movement, referred to as "trailer creep," presents a serious risk to employees. If a trailer moves before it is ready, it can leave employees to step out into open air, cause dock equipment to fail, lift trucks to drive off of trailers and loading docks‌, or even cause a tractor trailer leaving the loading dock to take the forklift and its operator with it—ejecting both! This is a serious and frequent occurrence without the proper trailer restraint system.
The client also needed to be able to keep their dock area clean, secure, dry, and energy efficient in order to lower costs, protect their workers, and avoid damage to their inventory. The dock equipments' excess wear and tear from daily exposure to environmental conditions was disrupting operations in the warehouse facility, resulting in increased utility costs, decreased productivity, and numerous safety concerns.
BEFORE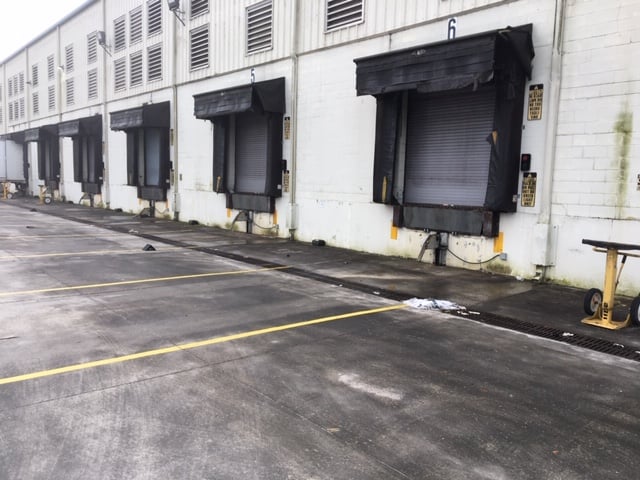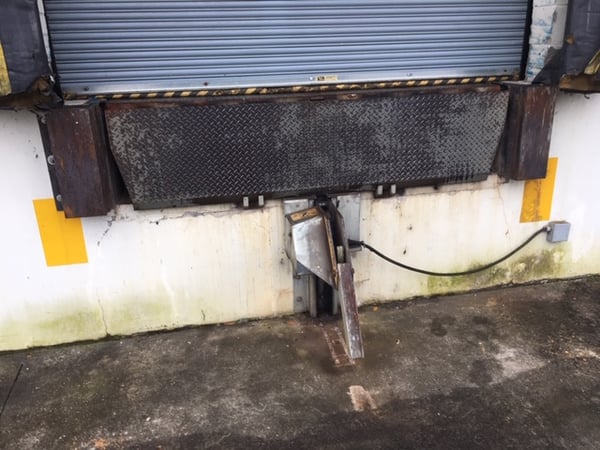 Installing Dock Levelers and Trailer restraints
To prevent "trailer creep," Southern States Enterprises installed new trailer restraints interlocked with dock levelers. This is how it works‌: when the trailer restraint engages the ICC bar on the trailer the system then allows a lever to raise and form the bridge into the trailer. While the fork lift operator is working to load and unload the trailer, the trailer is being held tightly to the wall by the trailer restraint. Upon completion of loading the trailer, the leveler must retract through an overt action at the control panel before the restraint release‌s the trailer‌. Note: A‌ll electronic controls are located inside of the warehouse‌ immediately next to the dock door. This prevents trailers from being able to make any movements while they are still being loaded and unloaded by warehouse workers.
We also provided new dock seals, which are the barriers between the loading dock door opening and the surface of the backed-in trailer during loading and unloading. This effectively keeps the trailer sealed tightly to the building, preventing water intrusion and keeping outside environmental conditions from entering the warehouse.
AFTER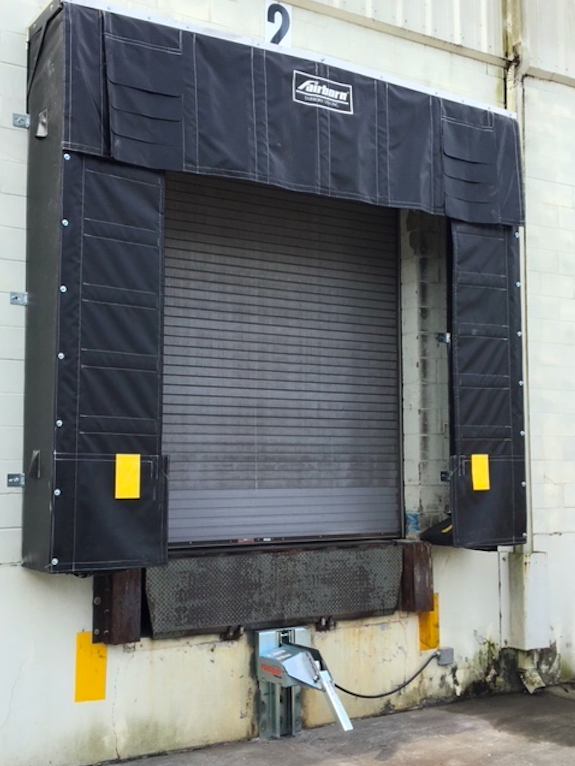 How Safety and Efficiency Improved After Dock Level Installation
The client now has a safe and efficient loading dock — without the possibility for back and forth movement or trailer creep, the risk of personal injury and damaged inventory is significantly reduced. The dock door seals will help to keep the climate-controlled air inside the warehouse, preventing the client from losing money on powering the warehouse's air conditioning system.
Additionally, by covering the back end of the trailer to create a seal, the newly installed dock seals will keep the worst of the rain outside of the warehouse when workers are loading and unloading inventory during a storm. This minimizes the risk of destroyed inventory, slip and fall accidents, and debris being blown into the warehouse.
Is Your Business Looking for Improved Loading Dock Conditions?
At Southern States Enterprises, we offer a wide variety of dock safety equipment designed to improve the day-to-day conditions safely and efficiently in your loading dock area. We also offer ongoing warehouse service plans to maintain your loading dock and door equipment in order to keep operations on schedule and avoid serious potential injuries.
Installing the right safety equipment and conducting routine maintenance to your loading dock is a vital component to keeping your assets and workers secure. Our trusted experts are highly qualified and dedicated to improving productivity, efficiency, and safety for your warehouse. For more information on our loading dock equipment and maintenance services, reach out to us today!