There is a very small fraction of warehouses and distribution centers that can admit to never needing professional maintenance repair services. Damage to warehouse assets and equipment is bound to happen every now and then—even with the proper preventative maintenance measures.
At Southern States Enterprises, we make it our mission to ensure warehouse's and distribution centers can perform at optimum levels by offering professional repair and maintenance services that meet their operational needs. For our latest maintenance project, we helped a supply chain provider replace and reconfigure a damaged pallet rack system. Below is how our team of professionals handled the situation!
Examining The Damaged Pallet Rack
In Central Florida, an end-to-end cold chain logistics solutions provider contacted Southern States Enterprises about the existing structural damage to the selective racking system in their 20 below freezer. Along with fixing the damage components, they also wanted to slightly re-configure the rack to gain more pallet positions.
It's important to note that a damaged pallet rack system is a serious safety hazard. When a racking system has loose parts or is storing assets greater than its weight capacity, it increases the risk of structural failure—creating a dangerous situation for a warehouse's assets and employees.
Another problem can come from using a rack system with dimensions that don't fit within the overall warehouse layout. Improper storage and handling equipment can leave little room for proper asset storage, and can cause warehouse maintenance managers to not fully utilize their warehouse space.
Installing a New Pallet Racking System
By allowing your pallet racks to receive ongoing warehouse service, you can avoid costly emergency repairs and address any concerns you have with your warehouse racking system. A quality maintenance inspection will point out any pallet rack issues to make sure your warehouse continues to operate at an efficient level.
For this service project, Southern States Enterprises' experts designed a new layout that helped the customer gain additional storage positions, and removed the old, damaged rack system from the freezer. We also helped the customer save on capital for new materials by utilizing their existing materials for the pallet rack— which is a useful warehouse storage and handling repair feature provided by our service experts.
For further pallet rack safety, a warehouse maintenance manager would find great benefit in installing rack system safety tools. These tools, such as rack netting and pallet support bars, all meet OSHA safety guidelines and add extra protection to your pallet rack's structure.
Final Results of Rack Repair Services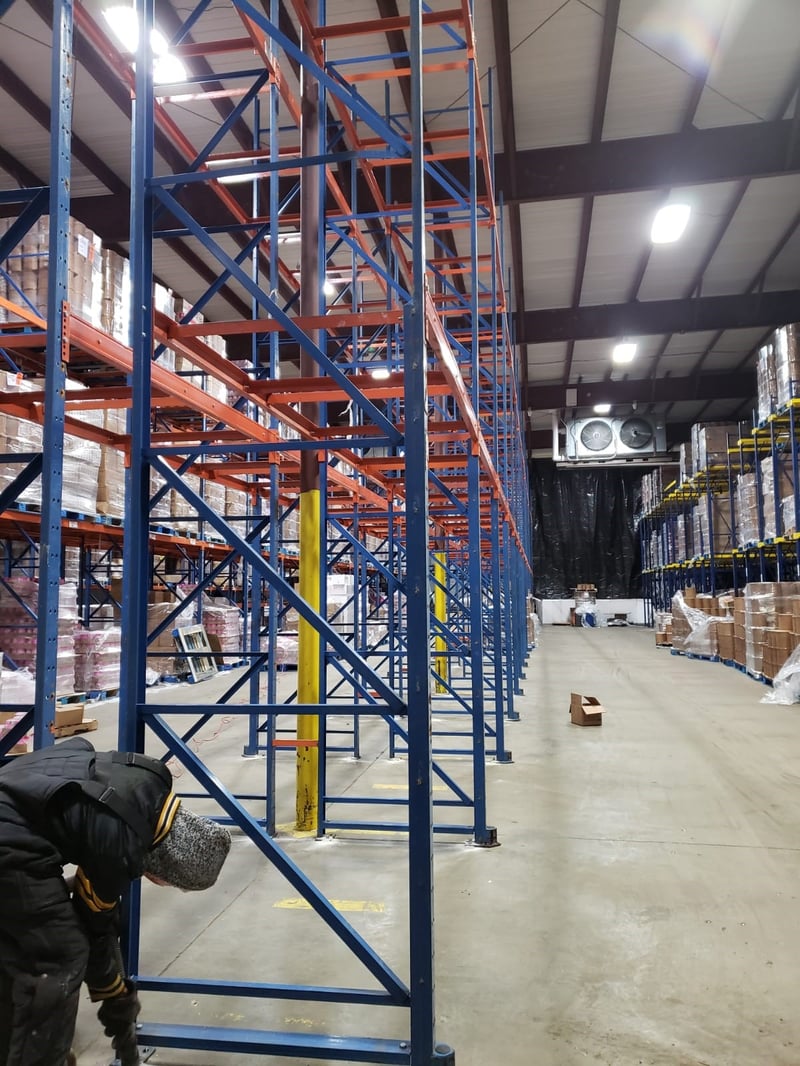 The customer received a newly re-installed pallet rack system, along with added storage positions. By removing the damaged rack, the safety issue was eliminated! The tear down and re-configuration were all performed during the night shift so as to not disturb the customer's daily operations. Our team also worked one row at a time so the customer was limited into how much product needed to be removed from the rack system.
In order for a warehouse to operate efficiently and decrease production stoppages, professional repair and maintenance services are an essential component. A warehouse's business relies on the organization and speed of its workers for locating assets and managing the motive power equipment, like forklifts and dock doors. Without the proper safety regulations, production can slow down or cause serious injury to assets and employees.
A well-maintained pallet rack system is a key factor in any warehouse facility. Damaged racks happen, but whatever the cause, a certified pallet rack specialist should always be called out to replace and repair the damaged pallet rack system.
Are You In Need Of Pallet Rack Services?
At Southern States Enterprises, we have a wide selection of warehouse pallet rack and shelving systems to meet the needs of your daily operations. Our trained experts come highly qualified to help improve the productivity and efficiency of your warehouse.
When making your pallet rack selection, it's important to know which style of racking system fits with the dimensions of your warehouses and the weight capacity of your assets. This is the best way to avoid potential safety issues in the future. For more information on our racking systems and our maintenance and repair services, contact one of our representatives today!